The Polymer Technology College (VŠTP) was founded in year 2008, based on the needs of the polymer industry in Slovenia. It is the only institution in the country which educates engineers and master engineers of polymer technology. Its graduates have excellent chances for employment, because the area of polymer materials and technologies is one of the most rapidly growing industries in Europe and world, and the knowledge from this area is crucial for its further development.
Development goals of VŠTP are related to continuous rise of the study process quality and to development of research & development activities, with emphasis on applied research projects for companies. It has rich laboratory equipment, which is constantly being supplemented, upgraded and modernized. With this, it allows the students to do quality laboratory work and get acquainted with research work, whereas the researchers are enabled to perform the research activities.
By status VŠTP is an independent and private college institution. Besides the programme of Polymer Technology, it has also accredited two 1st cycle study programmes, namely Interactive Information Systems and Sustainable Engineering. With its unique approach and small group sizes the Polymer Technology College can pride itself with high successfulness of its students who regularly attend the lectures.
Moreover, it can also pride itself with numerous national and international projects, into which it successfully enters together with different European and other partners.
Role in the project
Polymer Technology College is one of the initiators of the project and its lead partner. It is responsible for the coordination of the project activities, coordination between partners and with the management authorities. It also has a leading role at implementing activities within the work packages of informing and evaluating of the pilot projects and training programmes. It will also have an important role in preparing the current state and needs analyses and at carrying out the research and development projects.
Contact: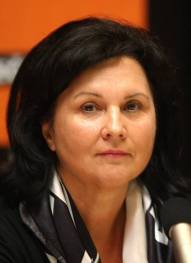 Dr. Silva Roncelli Vaupot
Dean
E: silva.roncelli@vstp.si
Maja Mešl
Project leader
T: +386 (0)2 620 47 62
+386 (0)31 672 520
E: maja.mesl@vstp.si